Scheduled
News
Post
Archaeology provides high-resolution data on local and regional effects of climate changes in a long-term perspective. These climate changes did not affect people to the same degree everywhere. In the area of cultural preservation we face growing challenges that result from the effects of climate change and that can only be solved in an interdisciplinary manner, jointly and in networks. In the closing event key findings from the previous discussions will be presented, providing a result of the discussion series in an interdisciplinary manner and with an international perspective.
Discussion #6 | 29th October 2020, 18:00-19:30 – Final Discussion and Closing Event
Greeting Michelle Müntefering MdB, Federal Foreign Office Minister of State for
International Cultural Policy
Review and presentation of findings of Ground Check Discussion 1-5 by representatives
of the discussion groups
Paneldiscussion with Members of the Subcommittee on Cultural and Education Policy
and the President of the DAI with: Thomas Erndl MdB (acting chairman oft he
Subcommittee on Cultural and Education Policy), Dr Barbara Hendricks MdB (former
Federal Minister) Claudia Roth MdB, (Vice-President oft he German Bundestag) and
Professor Friederike Fless (President of the German Archaeological Institute)
Moderated by Volkart Wildermuth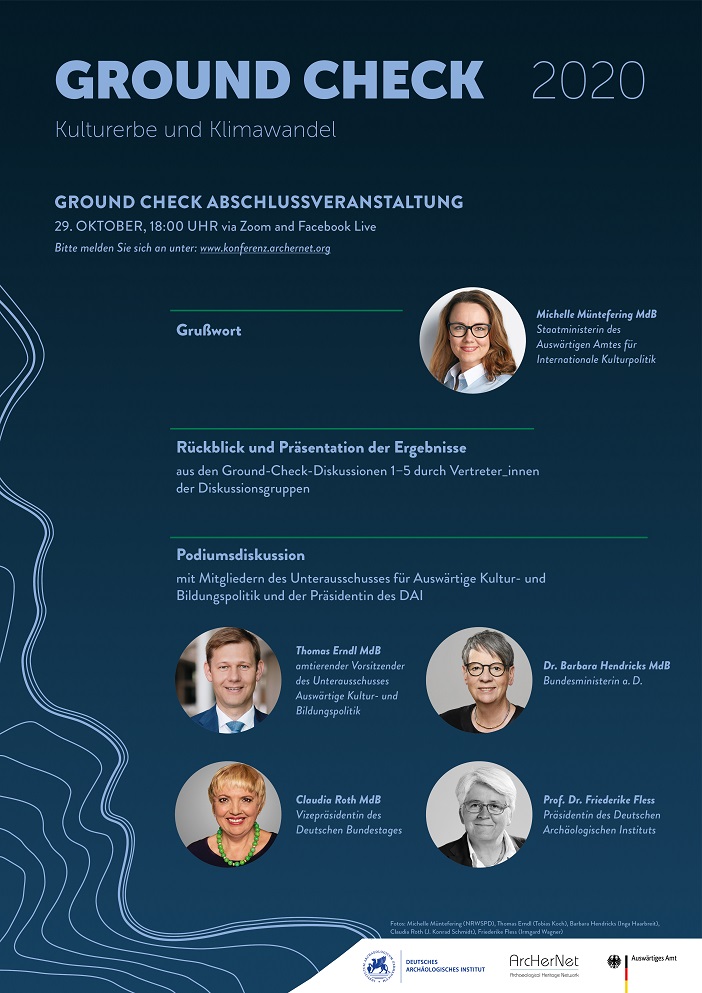 The online event takes place on the online platfrom Zoom.
About Ground Check:
The conference "Ground Check – Cultural Heritage and Climate Change", which was postponed due to the Covid 19 situation, is now being carried out as a online event series. On six dates between September 23 and October 29, 2020, experts will speak on the subject of cultural heritage and climate change. The discussion topics will be presented by the speakers in a 3-5 minute keynote speech and then discussed with the other participants. The event series takes place on the Zoom online platform. To register please follow the link on the ArcHerNet conference Website. The event series is conducted by the German Archaeological Institute and the Archaeological Heritage Network. ArcHerNet is supported by the German Federal Foreign Office.
---
Read about the other events: