Moved Online
Post
The call for applications for the next online course (25-29 October) "Cultural Heritage documentation using iDAI.field", coordinated by the IT Department of the German Archaeological Institute (DAI) and supported by KulturGutRetter is opened.
The course "Cultural Heritage Documentatin using iDAI.field" is one of 12 online courses in 2021 and will take place between 25-29 October. iDAI.Field is an open access tool for field documentation developed by the German Archaeological Institute (DAI). It combines features of GIS, photo management, and database management systems in a unique and integrating manner, it aims at facilitating archaeological workflows by reducing the overhead of using multiple systems. It has an adjustable data model and is free to reuse and adjust depending on project needs. This course introduces this tool and provides the necessary basic information to help you use it for your project.
The focus groups of the online courses are students in their graduation year and graduate students from the MENA region specialized in archeology or architecture with experience in archaeological field work. The application deadline is 14th of October.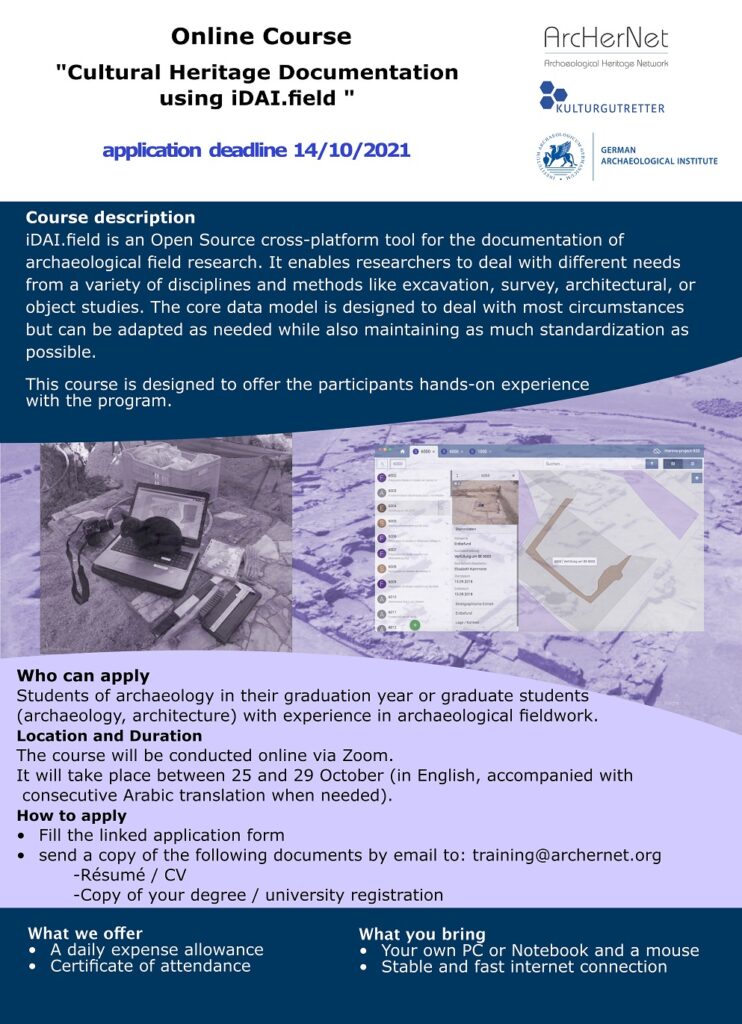 Online courses for on cultural heritage in the MENA region
The new project "Online courses for the MENA region" starts as part of the programme "KulturGutRetter – An emergency mechanism for cultural heritage in crisis situations", which is currently being developed by the DAI. The project aims at building capacities and an international network of local experts in the MENA region.
The courses of 2021 are coordinated by the IT Department of the German Archaeological Institute and will be held in 12 one-week online courses. During the courses the young professionals learn about basic techniques and applications regarding the digital documentation of cultural heritage.
What yout need:
PC or notebook and a mouse
stable internet connection
To apply:
2) Send the following documents to training@archernet.org:
– your CV/ Resumé
– a copy of your degree/ university registration
---
Title image/ flyer: Grafik: Abdulsalam Almidani | Fotos: F. Riebschläger, Irmgard Wagner, DAI.