The Joint Master in Heritage Conservation and Site Management is implemented by our ArcHerNet partners of BTU Cottbus–Senftenberg in cooperation with Helwan University in Cairo and with the support of the German Archaeological Institute as well as the Egyptian Ministry of Antiquities.
The programme focusses on transferring knowledge and methodologies required for the administration and management of cultural heritage sites. The offered modules focus on the following topics: strategies and methodologies for heritage conservation, heritage site management, tourism and visitor management. Students also complete two study projects which allows them to gain an insight into the practical application in their future professional life.
Applicants have to decide upon application whether they choose BTU Cottbus-Senftenberg or Helwan University as their home university. An important part of the study programme is a compulsory semester abroad at the partner university. The programme structure is as follows: 1st semester at the home university; 2nd semester at BTU Cottbus-Senftenberg; 3rd semester at Helwan University; 4th semester at the home university.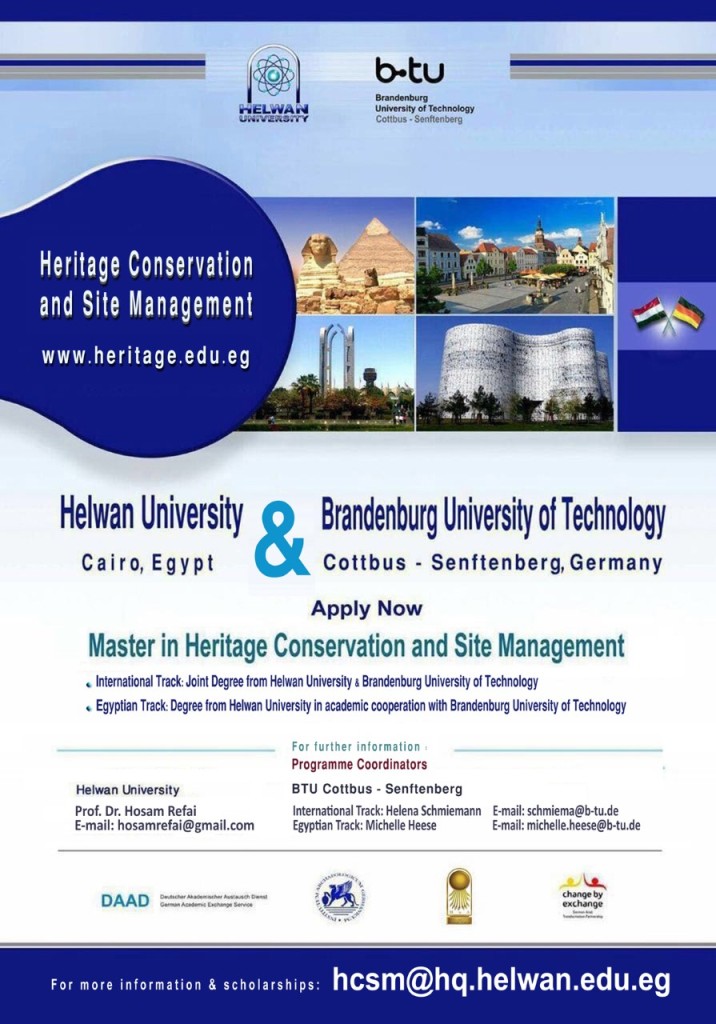 Start of admission for the academic year 2020-2021
HCSM announced the start of the admission period for the Academic Year 2020 – 2021 (HCSM Intake 8) according to the following deadlines:
HCSM International (Joint) Track:
– Scholarship applicants: 19th September 2020
– Self-payer applicants: 30th September 2020
HCSM National (Egyptian) Track:
– Scholarship applicants: 19th September 2020
– Self-payer applicants: 30th September 2020
· HCSM classes start: 17 October 2020
· Check the program's website regularly for updates on available scholarships
· The program offers 50% discount on the tuition fees for the employees of the Egyptian Ministry of Antiquities
To apply visit www.heritage.edu.eg