Are you a student or young professional interested in cultural heritage? Apply now for the training course Post-Conflict Recovery of Cultural Heritage 2020 in Lebanon and Jordan on heritage topics such as Building Surveying and Building Archaeology, Damage Mapping, Assessment and Conservation. The training course is supported by ArcHerNet and Stunde Null.
The training course on the Post-Conflict Recovery of Cultural Heritage responds to the growing destruction of archaeological and historical monuments in Syria. It is an initiative that sets its focus on the preservation, conservation, and restoration of the archaeological and historical building remains in Syria as well as on modern techniques for the documentation and processing of archaeological and mainly immovable structures of excavations.
The program is intended for young scholars of Syrian, Jordanian, Lebanese, or other nationalities with residence permission or UNHCR Status who either have a bachelor's degree in Architecture, Archaeology, or Civil Engineering or are still in their final years of study (4th and 5th year). By offering this capacity-building program, we are accounting for closer and lively dialogue and exchange on recent developments in the technical fields of building archaeology and heritage conservation.
Training in Lebanon and Jordan
The training course is organized as 6 months program and is structured into different thematic blocks taking place at different institutions in Jordan and Lebanon. With a strong link to practice along with interdisciplinary project work the program aims to cover a variety of archaeological, architectural, and heritage topics such as Building Surveying and Building Archaeology, Damage Mapping and Assessment, Conservation, and Restoration Planning, Presentation and Publication. Time for discussion on case studies and on personal projects of the participants is another major component of the program.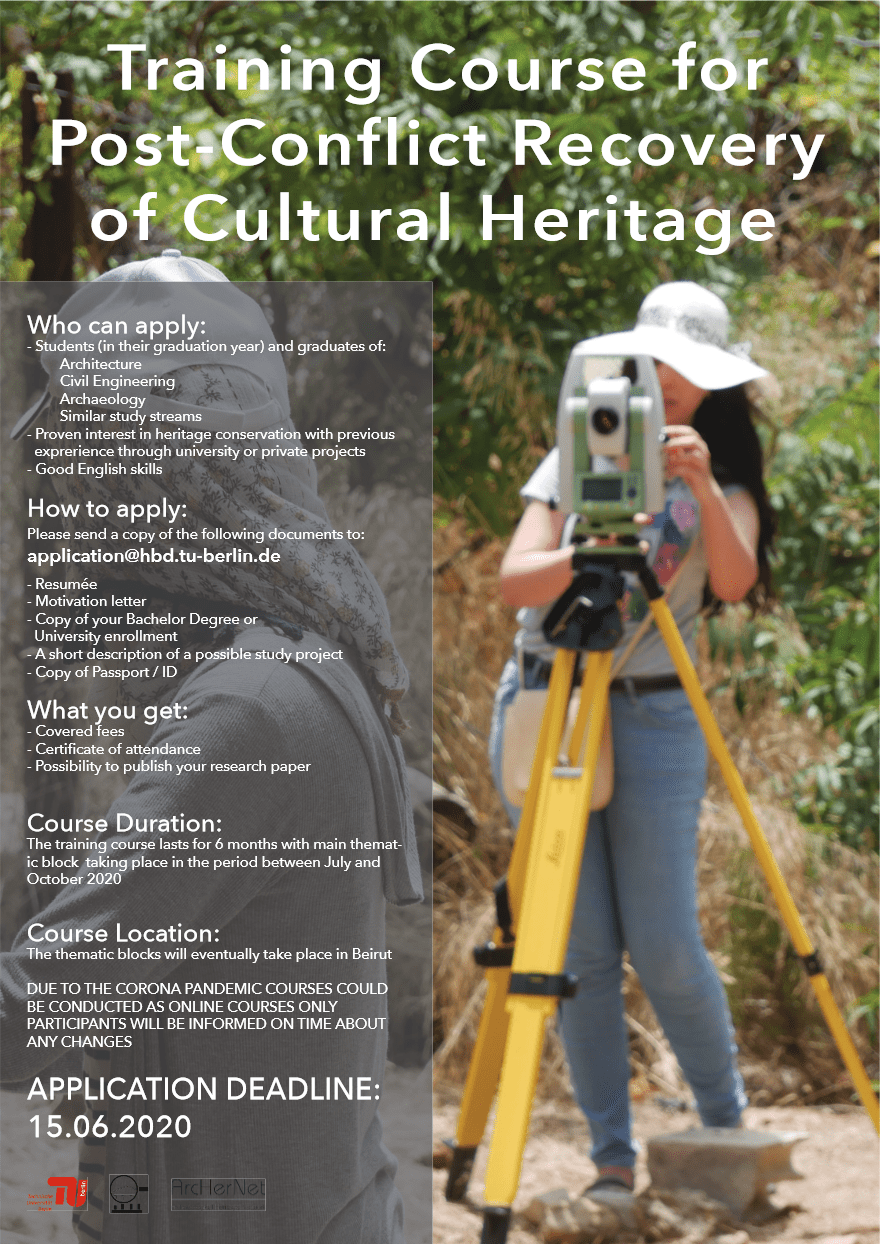 The training course is an initiative of the Department of Building Archaeology and Built Heritage Conservation at the Technical University of Berlin (TU). It is organized in connection with the German Archaeological Institute in Berlin (DAI) and the ArcHerNet with the cooperation of the Lebanese University (LU), German Jordanian University (GJU), and with the support of Orient Institution Beirut, and the German Protestant Institute of Archaeology (GPIA).
The Training course on Post-Conflict Recovery of Cultural Heritage is generously funded by the Federal Foreign Office's Migration fund supported by the German Federal Parliament. It is part of the project "Stunde Null: A Future for the Time after the Crisis" initiated by the Presidential Office of the German Archaeological Institute and the Archaeological Heritage Network Germany.
Apply here: application@hbd.tu-berlin.de