Photo exhibition and local ceremony of the European Heritage Awards/Europa Nostra Awards 2019 in Istanbul.
On Sep, 17, 2019, the German Archaeological Institute in Istanbul in cooperation with the Rezan Has Museum (RHM) and the Kadir Has University celebrated the opening of the photo exhibition "A Place and a Story: memories of Syria in archival photos" (Bir Mekân Bir Hikâye: Suriye Arşiv Fotoğraflarında İnsan Belleği). The exhibition has been organized within the Stewards of Cultural Heritage program (SoCH) run by the Istanbul Department of DAI.
This spring, the SoCH program has been awarded one of the prestigious EUROPEAN HERITAGE AWARDS / EUROPA NOSTRA AWARDS 2019 launched by the European Commission in 2002 and organized by Europa Nostra. They promote best practices related to heritage conservation, management, research, education and communication.
The exhibition opening was combined with the local award ceremony for the award.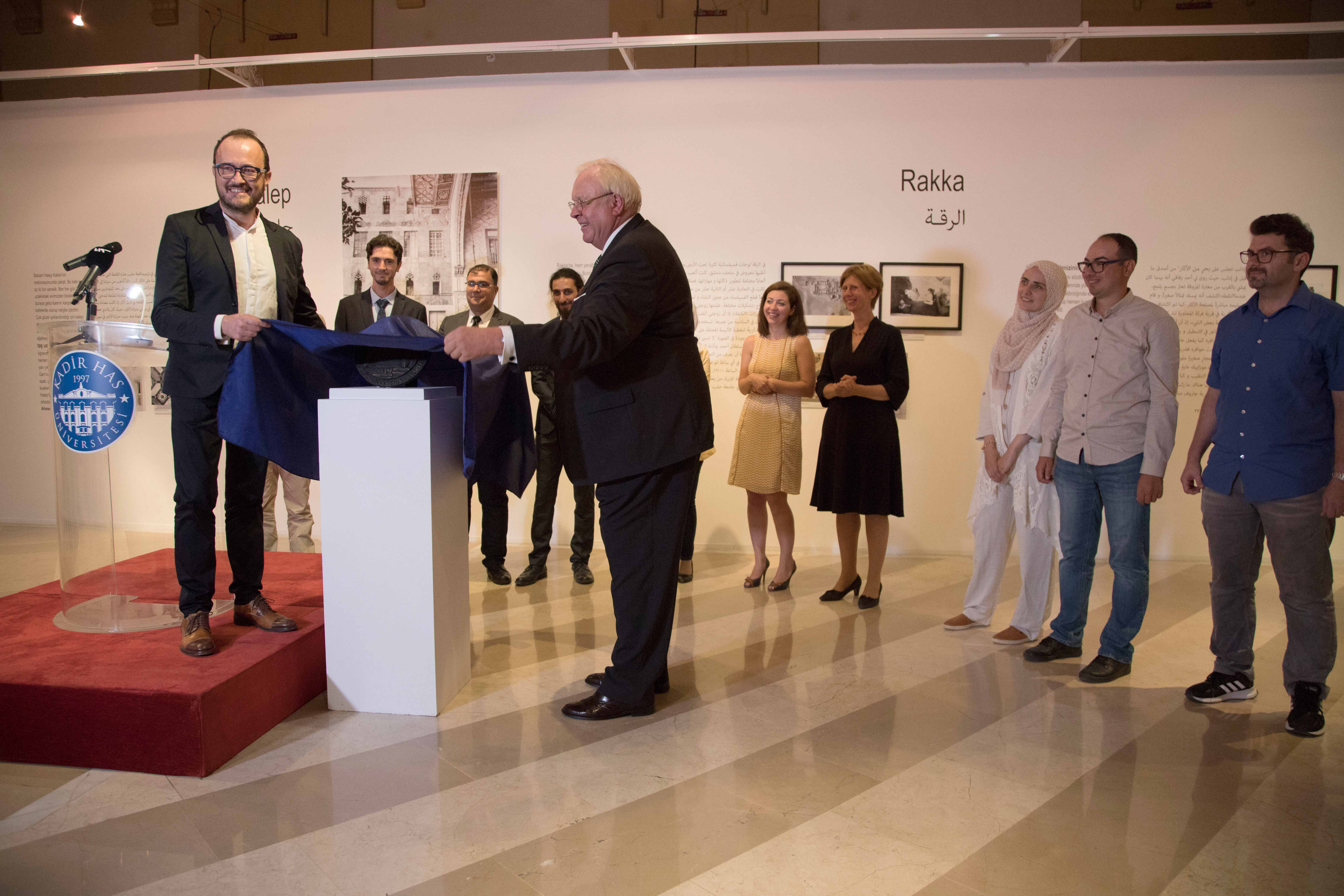 The event started with opening speeches by the host Mr Can Has, Head of the Board of Trustees of the Kadir Has University; his Excellency the German Ambassador Martin Erdmann; the director of DAI – Istanbul Department Prof. Dr. Felix Pirson; the scientific director of DAI – Istanbul Dr. -Ing. Katja Piesker; the curators Diana Miznazi and Berna Polat; the Europa Nostra representative Dr. Pavlos Chatzigrigoriou.
The exhibition "A place and a Story" aims to raise awareness and knowledge about Syria and its cultural heritage. The exhibition uses archival photos from the collections of the DAI, the Museum of Islamic Art in Berlin and the Max Freiherr von Oppenheim Foundation, as well as private collections. It is intended to show the importance of archival materials, especially in times of conflict, as they can play an essential role as a memory trigger and as a starting point for the implementation of many different projects to protect cultural heritage.

For this exhibition, people from different parts of Syria living in Turkey and elsewhere were interviewed. The archival photographs, mostly documenting monumental structures and cultural heritage sites, were combined with the daily life memories collected in the interviews. By combining the monuments and sites with people's stories, the exhibition aims to show the devastating impact of the conflicts in Syria on both human life and cultural heritage.
Members of the SoCH project, the interviewees, local and International experts from several Turkish Universities, NGOs, students and members of the local and international press (among many others) attended the event.
SoCH program is a subproject of the "Stunde Null"-initiative of the Archaeological Heritage Network (ArcHerNet) in Germany. Within this context, the Istanbul based SoCH-project is aimed at Syrian architects and archaeologists currently residing in Turkey after having to leave their home country. It is supported by the German Federal Foreign office and the Gerda Henkel Foundation.
---
Date: September 17, 2019 – October 17, 2019
Location: Kadir Has Üniversitesi, Cibali – İstanbul, 34083 / Türkiye
Title Image: Exhibition: A Place and a Story |Foto: Polat, DAI.
---
Read More:
Article about the exihibition in Süddeutsche Zeitung Sep 18, 2019