Scientist of the German Archaeological Institute (DAI) have developed the digital webbased application "Palmyra GIS" and the printed 3D terrain model of Palmyra. Specialists digitalised analog data sets and created new digitalised data, which is accessible now for the first time.
 "Palmyra GIS" is a GIS implementation that is built on open source products. A Geographic Information System (GIS) combines powerful cartographic tools with a flexible database. It contains a large collection of datasets, arranged as GIS layers, on the UNESCO World Heritage Site of Palmyra in Syria. "Palmyra GIS" is a uniquely complete, detailed collection of geographic data. It can be used by GIS professionals and non-professionals alike, thanks to different user interfaces.
Open Source implementation "Palmyra GIS"
"Palmyra GIS" is heavily linked with external image data and online database records. Photographs from the DAI's extensive collections can be browsed from a large number of viewpoints on the map. All important monuments are also linked to detailed object records in the DAI's online database of object descriptions, available at arachne.dainst.org. The Palmyra GIS data is also available over the Internet, via the DAI's online GIS services hosted at geoserver.dainst.org. This service allows uploading, editing and sharing of GIS data in a simplified manner. All GIS layers are subject to versatile user rights and permissions management. Detailed metadata and licensing information allow for controlled online publication. Complete digital maps can be created online to present data collections.
This unique wealth of data is the result of decades of work and collaboration between the German Archaeological Institute (DAI) in particular the Damascus Branch and many other institutions and individuals. Some of the datasets have been digitized from older paper sources others have been created digitally and are now available for the first time. The backbone of "Palmyra GIS" is an extended digital version of the map synthesized in Topographia Palmyrena by Klaus Schnädelbach in 2010. This data is highly accurate, quality-checked and based on modern surveys on the ground. The original CAD drawings have been restructured and standardized into object-based GIS layers. Some new GIS layers, such as a complete digital elevation model (DEM), have also been derived.
3D Model of Palmyra
The 3D Model is another products developed in the German Archaeological Institute. Different data-sets can be studied, allows different views on an accurate model. "Palmyra GIS" integrates data on many scales in a seamless manner.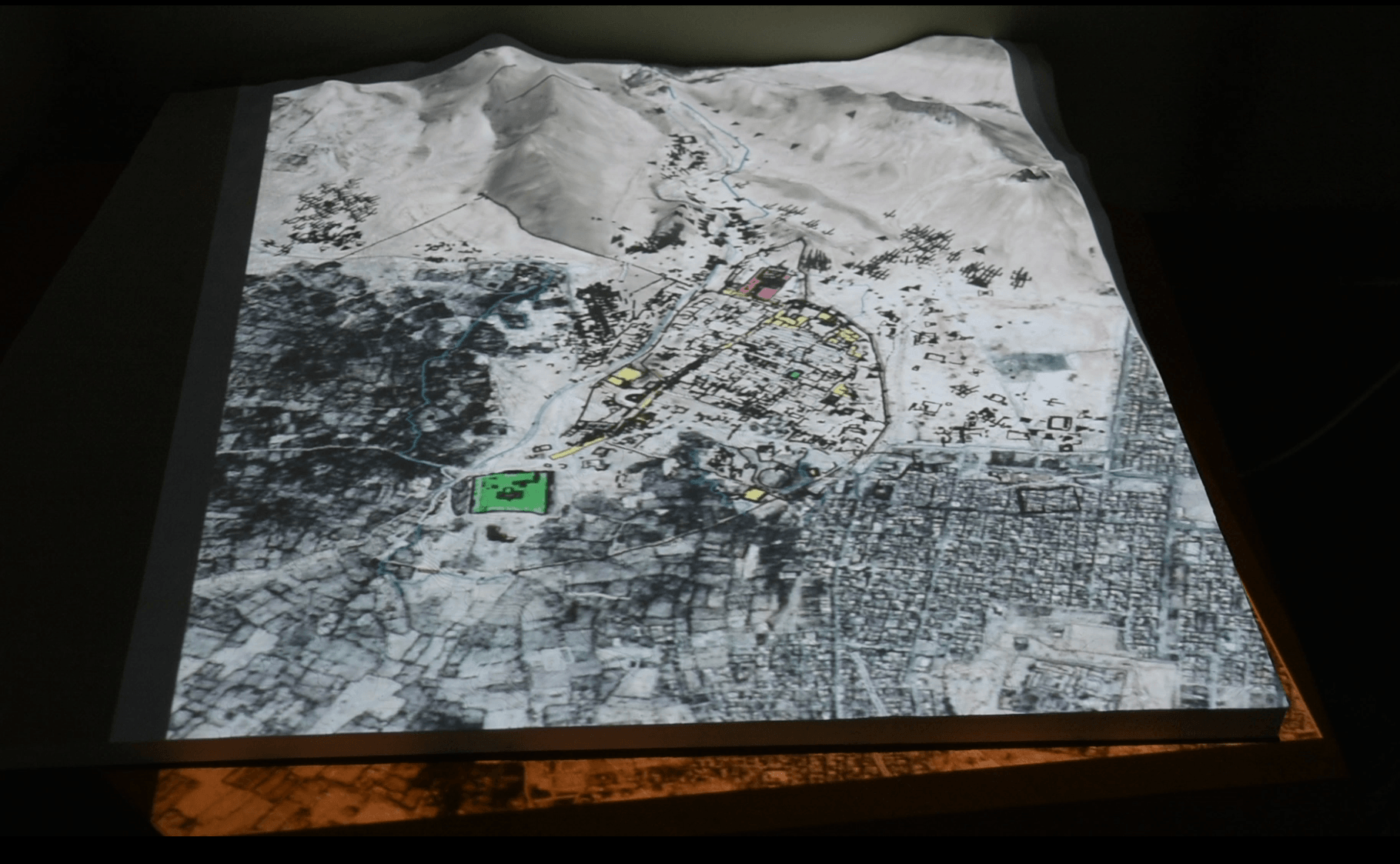 Digital Cultural Heritage of Syria
The application is the basis for damage assessment, planning, reconstruction and monitoring. These detailed local datasets have been contributed by many external partners, such as Andreas Schmidt-Colinet and the Bavarian State Heritage Office. One of the most impressive assets of "Palmyra GIS" is a collection of historical air photos, contributed by the Institute francais du Proche-Orient (IfPO).  "Palmyra GIS" was realised in the framework of Archaeological Heritage Network and "Zero Hour – A Future for the Time after the Crisis", which is supported by the Federal Foreign Office.
---